Nostalgia Pro Street Driver Kevin Parent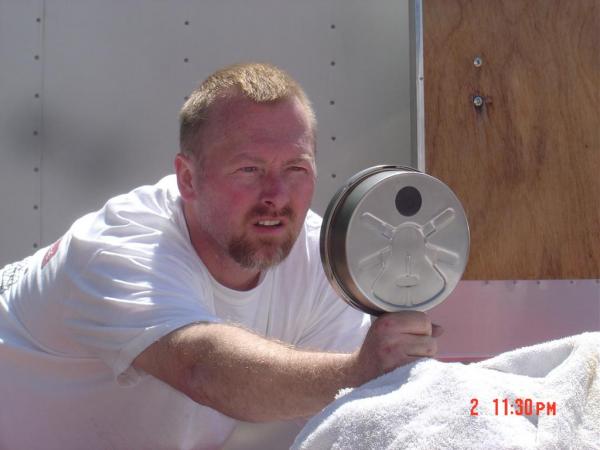 How I got to where I am today.
Back in 1994 I got my first taste of drag racing. I had joined my Uncle at a local racetrack, where he encouraged me to take a lap down the quarter in his 1970 GMC pickup. With a 327 C.I. SBC, it wasn't too much to brag about. I tried my best to do a burnout and stage the truck. My foot was shaking so badly, my foot nearly came of the brake. The tree dropped and I nailed the peddle to the floor. Fourteen or so seconds later I reached the end of my pass. Still shacking from all the adrenaline I barely got the truck slowed down and on to the return road. I pulled into our pit space and my uncle asked what I thought? I said to him, I'm hooked!!!! On the way home from the track, I picked up the latest issue of trading times. So the hunt was on, but what, was the question?
Already being a Chevy fan, that's where I started. There were so many choices. Chevelle's, Camaro's, Corvette's; all nice cars. Then I ran across it. The ad read, 1969 Chevy Nova, 427 Big Block. That's all I needed to know. When I got home, I called the gentleman and asked him if I could come out and look at the car? After making arrangements, I got on the phone with my Uncle (whom at the time, was the only person I knew with a trailer) if he could go look at the car with me. My uncle and I arrived to check out the Nova. We fired the car and took it around the block. Needless to say, I gave him his money, and I took home a 1969 Chevy Nova in primer and a trailer full of Nova parts. After putting the car together enough to race, off to the track I went. It turned out to be a 13 second car right off the trailer. After a couple years of bracket racing, bodywork and some 11-second time slips, it was time to step it up a little.
A friend of mine had bought a LS7 crate motor more than a few years back. It was sitting in his garage, and had never been fired. We struck up a deal and I was the proud new owner of a bigger BBC. I sold the heads that were on it and purchased a new set of Merlin iron heads. Now we're talking, with some tuning it turned my Nova into a mid 10 second machine. Now you all know how it goes, that was fun for a while. Did someone say Nitrous? I purchased my very first nitrous kit. It was a NOS big shot plate system. Dropping a full second off my time slip was a rush. I was the big dog (in my own mind).
Feeling fearless, I showed up at the Halloween classic at Norwalk raceway. I signed up for super pro. Wanting to add a little excitement, I thought I would spray nitrous. Then Sunday came around, and it was time for eliminations. I staged the car and my competition's light dropped first. I was playing catch the other car. My light dropped and I let go of the Trans brake button. Just as I pulled second gear, all hell let loose. I pulled to the side and got out of the car. There was my new motor with a hole in the side of it the size of Texas. Well, back to the drawing board. I sold off the salvageable parts and came up with a game plan. If cubic inch is a good thing then more must be better. This time 540 inches was the motor of choice. I built a short block and purchased a set of Dart Pro 1's 345's. This time I was a little smarter and opted for the NOS pro fogger.
A fellow racer and soon to become friend, Brian Mullaney and I heard that Norwalk Raceway with the help of Flowmaster Mufflers was putting on a show there. They listed one of the classes as Nostalgia Pro Street. Brian and I loaded up the Nova along with our friend Tony Valente who had purchased Rick Dyers/Cars inc. 62 Impala. Due to motor problems during qualifying, we were not able to finish the event. The good news was Tony went on to win. Another year of tuning on the 540 turned some pretty impressive time slips. At 3300 lbs, this motor on spray was able to push the car to some 8.30 ET's.
At the end of the 2000-racing season I wanted to get more serious about racing. Longing for some heads up racing and serious competition, I heard about the NSCA. Knowing that my 540 BBC didn't have enough steam, it was time to rethink my plan. I found a buyer for the 540 and went to work on a bigger motor. I enlisted the knowledge of Jeff Lukovich of Lukovich Racing to put together a short block for severe duty. Old pro street racer Scott Hocking was selling his 18° Pontiac big chief setup. I purchased this setup and bolted it on my short block. I also knew that the Trans and converter that I had been running with the 540 would not due the job for this new combo. I called Marty Chance of Neil Chance racing converters. Marty set me up with a very stout converter. Marty also set me up with someone who turned out to be the greatest weapon in my racing arsenal, Hutch of Hutch's Trans Service. In the spring of 2001 Brian and I showed up in Reynolds Ga. After some chassis tuning, we busted out some 7.9 passes. Everyone was amazed. Who were these guys some people asked? You don't just show up out of nowhere and run 7's at that weight. It was official; I was inducted into the 7-second club.
Through 2 years of tuning with the help of Hutch and the school of hard knocks, we were able to get this combination to run 7.7 flat. Talking to Jeff at Lukovich Performance, he told me about a new 14° head that he had helped develop. He thought it would be perfect for the Nostalgia Pro Street class. So over the winter in 2002, I sold my 18° Pontiac setup and had Jeff prepare a set of these new 14° heads for the 2003 racing season. Brian and I showed up in Atlanta, Ga. in March of 2003 for the NSCA opener. The new power was too much to handle. Without having any time to tune the chassis, we were taken out first round.
The 2003 racing season proved to be very exciting. The forth race of the 2003 NSCA racing season was Cecil Co. Dragway located in Rising sun Md. With a few more laps on this new combo, we were in danger of exceding the 7.50 class barrier. We blasted out a few 7.50 passes at over 180 mph. Because the NPS class is an old school back half class, it has a 7.50 ET cap on it. Also, my chassis would only certify to a sportsman cert. That means no faster than 180 mph. With a warning from the NSCA Tech to not exceed 180 mph again, I would have to lift on the high end. We ended up going out second round that event due to the car heading towards the guard rail and me having to lift. Before the next event the NPS class got a rule change. To slow us down they limited our nitrous jet to a 34 pill instead of a 38. Getting a handle on that tune up was another challenge. We finished the 2003 season with the NSCA in 5th place. Having what we think is enough power; we are going after the chassis this winter. We look for positive things for the 2004 racing season.
Bookmark/Search this post with